Event details page for section 'events'
Ellerslie Intermarque Classic Car Show
Venue
Ellerslie Racecourse
Facilitator
TBA - Volunteers please contact us!!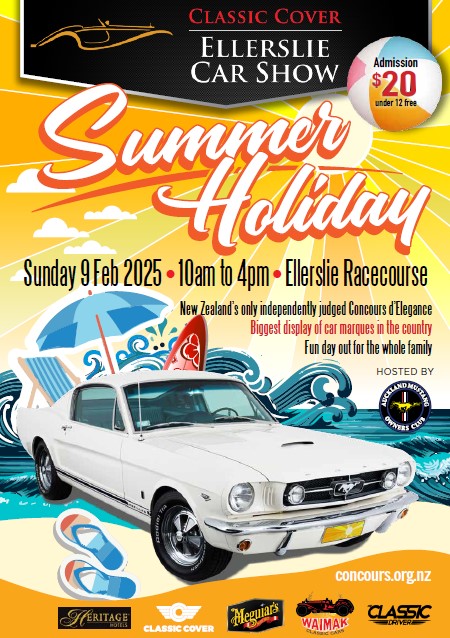 We wish to thank you again for the great efforts your Club members put into preparing and displaying their cars at Ellerslie in 2020. We encourage you to forward this message to all your members to rally their support for 2021. We hope your Club will help make the 50th Ellerslie Intermarque Classic Car Show and Concourse d'Elegance on Sunday the very best in the event's half century of celebrating the wonderful cars we all love.
To that end we are organising far greater awareness raising and publicity of the 50th event and will be extending the opportunities for greater participation by existing member clubs such as yours and also to a wider range of younger classic, restored and modified car owners as well.
For the first time at the 50th show, there will be a couple of exciting new displays: "Barn finds" and "50/50/50". 50/50/50 will be a judged concours competition for those younger members who probably have not carried out total restorations on their classic. Both owner and car need to be under 50 years old and including purchase must have cost less than $50,000 to prepare their car for the event.
Most important of all, have fun with your car display! These cars are not intended to be Concours cars, rather this is an opportunity for your club to show the public your marque and the great fun that can be found within a club.
We look forward to working with your Club over the coming months and hope we can rely on your full participation at the 50th event in 2021.
Please don't hesitate to contact me or any of the Committee should you have suggestions and ideas for what ultimately is your show.
Best wishes,
Garry Boyce
Club Announcement - Theme for 2021 will be the E-Type. Set up a stand - Celebration of 60 years of E-Types across the Globe. There are a few special E-Types among members to be displayed so, if you have one, your one maybe selected for the display.