Event details page for section 'events'
Herd of Cows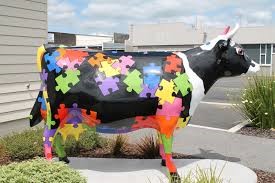 'Herd of Cows' - Morrinsville.
Meet at BP Autobahn on SH-1 South of Papakura at 9.30 am.
Departure will be at 10am, for a leisurely jaunt in your Jag through the delightful Waikato countryside to Morrinsville, home of "Herd of Cows".
On arrival at Morrisonville, congregate beside "Mabel the Mega Cow", for a group photo, outside Power Farming, 110 Thames Street. (They will be closed so plenty of parking).
After photo - our next stop is at the angle parking in Moorhouse Street (by the Police Cow) - overflow at 33 Canada Street outside closed businesses.
Leave your cars and head to Loxy & Co Eatery at 292 Thames Street.
Lunch at Loxy & Co followed by a Treasure Hunt. (Bring clipboard and pen)
We're "penciled in" at Loxy & Co for lunch (menu to come) and we will need to know numbers.
Please register your numbers for lunch by clicking the "Register" tab below.
Please email Sue on jagclubak@gmail.com if you have any queries.
Prices
Lunch - Member to pay at Cafe
RSVP Lunch Booking - Couple
Optional Extras
No. of Additional Guests (optional)